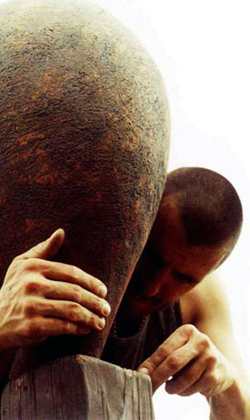 Autor
Marek Dias se věnuje sochařské a keramické tvorbě. Jeho interiérové i exteriérové plastiky bylo možné vidět na mnoha skupinových i samostatných výstavách. Rád používá k výpalu keramiky palivové pece s otevřeným plamenem, kdy se oheň a poletující popel podílí na tvorbě díla.
Své zkušenosti s keramickým materiálem zúročuje jako pedagog, na Uměleckoprůmyslové škole Svaté Anežky České v Českém Krumlově, kde vede ateliér Designu keramiky a porcelánu. Působí také jako lektor výtvarných kurzů a seminářů.
Author
Marek Dias works especially with ceramics. His interior and exterior sculptures have been exhibited at many exhibitions. He likes to use wood kilns with an open fire for burning his ceramics, because the fire and flying ash help to create an original product.
He leads an atelier of ceramics and porcelain creation at the secondary school of applied arts at st. Agnes in Český Krumlov and also he is a teacher of many public art courses.